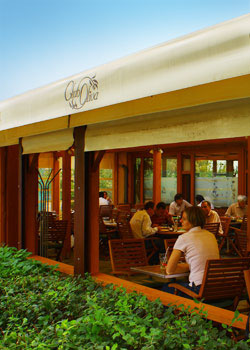 Workers and visitors in Terrapark are welcome in the local Mediterranean restaurant Club Oliva with delicious meals at reasonable prices.
Club Olíva Restaurant
Club Oliva is open from Monday to Friday under Puskás Tivadar street 2 and awaits their customers with 5 different set menus at favourable prices. The basic menu "A" (soup, main course, refreshment) is available for a very reasonable price. On top of the traditional menus they offer two new menus, menu "B" and Menu Light. Menu "B" is varied with another main course and Menu Light contains a light main course for those who watch their figures or prefer a healthy diet. Menu "XL" is still on with a dessert after the basic menu and menu "Extra" serves a glass of beer or juice beside the basic menu.
Their menu is to be found on facebook too.
http://www.cluboliva.com